Are you looking for the best keyword research tool free? You must have guessed from the title which tool I am talking about. Yes, the name of this tool is UberSuggest which has been created by Neil Patel, which shows the search volume and keywords.
With this tool, you can know many things of your blog website.
It is very user friendly and easy to navigate.You can do free any 5 research in the entire day, after 24 hours only daily limits can be resumed. Basically, our goal to extract the search volume and keyword difficulty. We have to find the combinations in which the volume of the keyword is High but the difficulty of the keyword is less than 40 or show easy. If we get such a combination, then we can use that particular keyword in the title of our post or in the content of our post.
Google Auto Suggest also helps us in finding keywords, but with this, we do not know the keyword's difficulty and search volume.
As this tool remains free according to the usage 5 times of research and is limited. So to utilize this tool in the better way we should get the keyword first from Google Auto Suggest beforehand and later research these keywords in the UberSuggest tool, what keyword will fit right for your title and post, do the analysis in limited usage.
I know that you must be thinking why it is important to do all this, but let me tell you, it is very important to do keyword research with a good content. Without this, we can say that the work of 10 percent blog post is still pending and it is considered an important factor.
Many big bloggers say that no matter how much you write the content, if you did not pick the keywords correctly, then it will take many years for your blog to be ranked. Know that a keyword can change your life and the same keyword of your life can become a success story.
Let's look at some features of this tool
Domain Overview
Domain overview shows you how much organic keyword traffic is coming to your website. You can easily see organic keywords for which your site is ranking, it will also show monthly organic traffic coming from search engines and also shares information about domain score, backlinks.
Keyword Research
Just type your keyword in tool and analyze the search volume and Keyword SEO difficulty.

Keyword Suggestions
If you don't know which is the best fit keyword for your post, then you may use this tool to get more ideas on similar keywords and do some more analysis.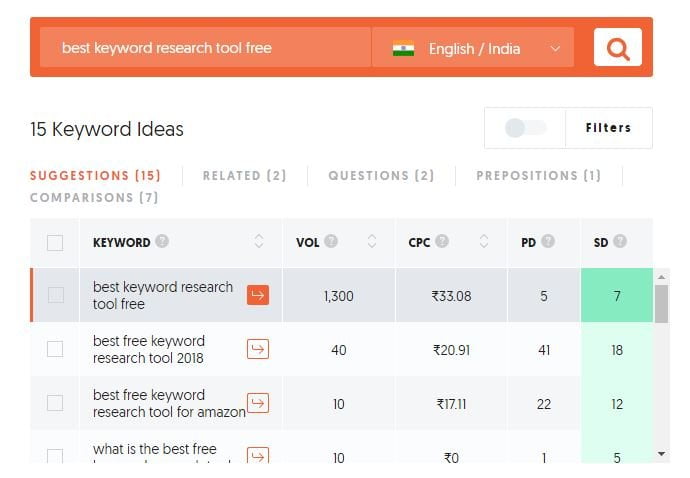 Top Search Pages
You can use this feature to see your site which are the top pages giving more traffic, backlinks, and also popularity on social media like Facebook and Pinterest.
Content Ideas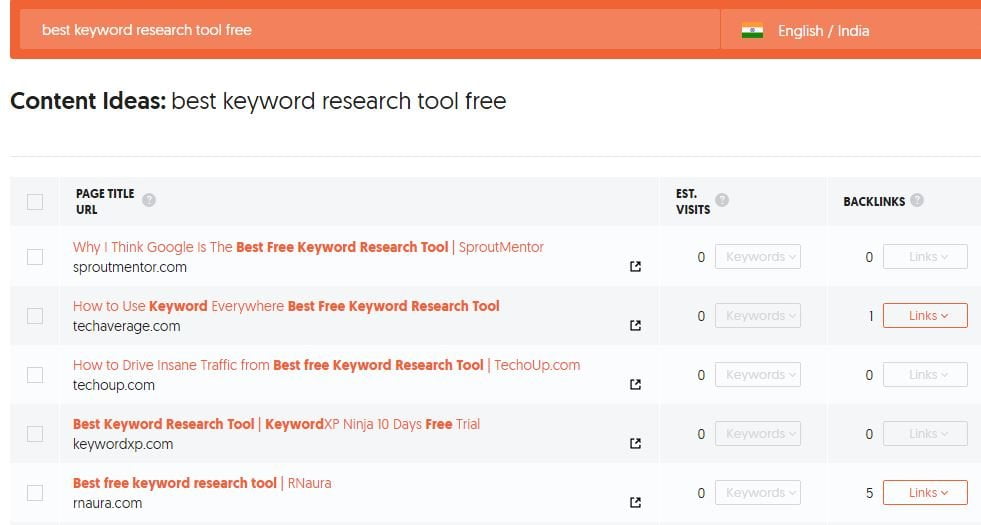 Google Chrome Extension
The good thing about this tool is that offering a google chrome extension. If you are adding it in chrome browser and when you search in google then along with results you will see the search volume of the keyword which will help you lot to identify the best keywords out of many but keyword SEO difficulty you can see in keyword tool only.
When I started looking for keyword research tools, I was very confused about which tool is better. Whichever blog website I went to, at least 6 to 12 tools have been told there about. Which tool is free and best, it is not a simple task to get from them.
I have done my full research to tell you about the best keyword research tool for blog that is really excellent in itself, and one thing if you want to get paid subscription of this tool then it is not that expensive. In this subscription, you will also be given free coaching towards Neil Patel and his team.