I have done the best analysis to determine who is the best web hosting service provider as of today's Siteground vs GoDaddy. When you go to have the decision to buy a web hosting plan then always confusion in deciding which hosting is best. Which one I should go for, to answer these questions you may go through with complete analysis through this post.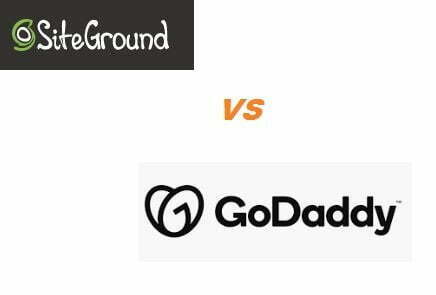 Support
The first thing I want to talk about support if something going wrong with your site Its really important to get support and that should be quick responsive support. Let's say you have installed something as plugin and your site is not working right now. You will be looking for the support, here Siteground supporting 24/7. The best in that Siteground offering live chat support and this is one of the easy and convenient support. You can share your problem with chat. I used this service for a cloud flare account setup and I realized it was an amazing support.
If you are using WordPress for your site then also they support any issue related to WordPress.
This is something that I don't see with any other company of web hosting. Other than live chat there is local number support so its not matter which country you belong, you can just dial the local number and get connected for your issue or problem.
Apart from it you may write your issue through a support ticket and ask for immediate support but best to go with live chat support and if it is unavailable then go for local number support and you may find the local numbers at Siteground site.

In some countries, they offer live chat support but that is Monday to Friday support, and it's not for the 24 hours but when you are looking for any support just find these local numbers and dial to fix your issue. If we look at Godaddy then they have customer support through phone don't have live chat support. Godaddy doesn't do also email support so my question is being a big company like Godaddy they should support both of these chat and emails.
Speed
Siteground offering various things to improve the speed in the loading of the website. Go Daddy is not offering any free tools in the context of speed whether Siteground having peed technology like Nginx and SSD drive.
Siteground offering free SG caching, content delivery network set up to speed up your site and you can improve the load time of your site. Load time is an important factor in ranking your website. Looking at these things Siteground has got the first position in dealing with various things which helps to improve the loading of site and ranking.
Free SSL and Cloud flare CDN Setup
Siteground offers free SSL and cloud flare CDN setup and it is very easy to configure. If you don't know how to enable it that reach out through 24 by 7 live chat support and these guys will make your life easier. Cloud flare CDN makes your site faster & safer. You may easily speed up your site by doing a simple setup. You will get a class speed and protection for your site with Cloudflare.
Feature wise compare

Both have the 99.99% uptime and both offer 30 days money-back guarantee, If I come to WordPress then both are using optimized WordPress, automatic updates, one-click migration tool, if you want to move WordPress from one hosting to other you can easily move out, they both offer free daily backup service.
Go daddy offers you a one-year domain free and 365 office email for the year. One good thing that Siteground has and Godaddy doesn't that is multiple data center support so you can choose which data center you want to be used for your site. The Siteground has been no. 1 recommended hosted company in the world.