If you are a blogger and are looking for best WordPress theme for blog then today you have come to the right place. Today I will tell you how you can apply a good theme on your blog and your blog will give a professional and very good look.
And apart from this, you will be able to do many settings in a very simple way, for this, you do not have to apply any mind, you do not need any developer, you can do this work on your own and give a beautiful look to your blog. The name of the theme I am sharing with you is the affiliate booster. This is the best trending theme out of many best WordPress themes which is a great blogger and affiliate marketer of India Kulwant Nagi has developed.
Affiliate Booster Theme and its Plugin
This theme is very popular in the world of WordPress, the main thing about this theme is that you can use it very well for both your WordPress blog and affiliate marketing. Kulwant Negi has designed this theme specifically for affiliate marketing but it works pretty well for both purposes. By using this theme, you will get an affiliate sales easily.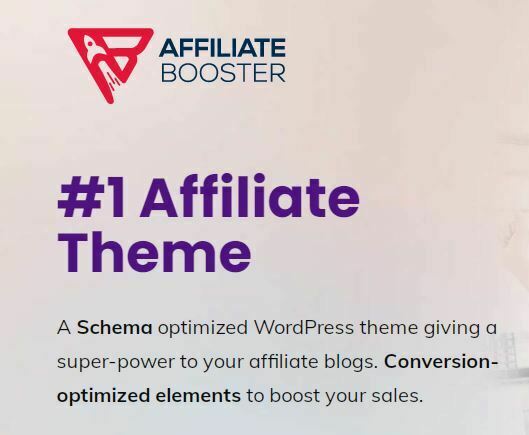 Features of Affiliate Booster Theme
Elegant look of Landing Page
As you know that the look of your home page should be very good and for this you use many different plugins, but this feature exists in this theme itself, you can set the style according to your choice and your home page or blog page will look good. All the feature images will look like a thumbnail on your blog, which will work to boost your post to readers and will have a good look and feel.
Multiple Header Style
A logo is the brand of a blog and also the header design of the blog, which is seen by knowing that the real look of this blog or website is adorable. You can change through header style of affiliate booster theme. You can easily shift your logo to the left center and also easily change the background color image header. To change this, I guarantee that you are going to take just seconds.
Fast Loading
Nowadays special attention is paid to the loading speed of the blog because every person, in particular, wants to see any site on mobile and any blog or website is very important to be mobile-friendly.
Simple settings and Easy customization
Through the affiliate booster theme, you will be able to do many settings easily. What I like best is that you will be able to change your blog to a global level like the blog background color of the blog, background image, layout of the blog, and many more. The settings that you will be able to make also for the content page, from which the look of your content headings and content area is going to be very good.
100 % Mobile Friendly
This theme is mobile responsive and designed according to every device like desktop, mobile, and tablet. You will get a very beautiful look on mobile and there will be no delay in page load at all.
Easy to Change Colors
In this theme you can change the color of many places like you can pick link color, page background color, header background color, you can change the various color and apply it for the site.
You can also change the color of the content area. You can easily change the color of the headings that are used in content from H1 to H6 and it will be applied globally on all your pages.
Typography Control
You can apply the color and font size of the text to your desired color in a comprehensive way.
Gutenberg and Elementor Comptiabilty
Affiliate booster theme is fully supportable and compatible with Gutenberg and Elementor plug-ins.
Affiliate Booster offers Plug-in
Affiliate Booster is one the best WordPress theme for affiliate marketing, along with this you will get a plug-in free of charge which has a lot of customized Gutenberg supported block inbuilt and with the help, you can boost sales in affiliate marketing.
You can compare and show the product with the help of this impactful plugin. I like the most comparisons blocks for the product. Apart from it, there are many features in these blocks so that you can create a good look at the product.
How to get Affiliate Booster Theme
You can purchase it directly from the website, have launched two subscriptions. The first is an annual subscription and the second is a lifetime subscription. There is an option in both subscriptions, you can select it for a single site or 50 sites.
If you are working on more than one WordPress blog, then according to me you should buy 50 sites subscription and if you are doing full-time blogging planned for the future too and want to save money, then lifetime subscription will be more beneficial whereas an annual subscription requires to renew every year.
Lifetime Support
You can create a support ticket that provides you a resolution, you can contact through support email when any problem comes.
How to Install Affiliate Booster theme and Affiliate Booster plug-in
These themes are not available in WordPress, once you will decide the subscription after that you will be able to download the theme and plug-in from the Affiliate booster website. All knowledge base is created in the affiliate booster site on how you will install the theme and plug-in.
After purchasing the theme, your account will be created in Affiliate Booster and you can log in to the website and download the Affiliate booster theme and plug-in from your account and follow the given setup steps to install on your WordPress blog.