Are you a music enthusiast, a budding musician, or a seasoned performer searching for the perfect keyboard to enhance your musical journey? Your search is completed today. In this comprehensive review, we dive deep into the world of the Casio CT-X9000IN, a revolutionary keyboard designed to inspire creativity and elevate your musical performances. Unleash your potential with this remarkable instrument, as we explore its impressive features and numerous benefits.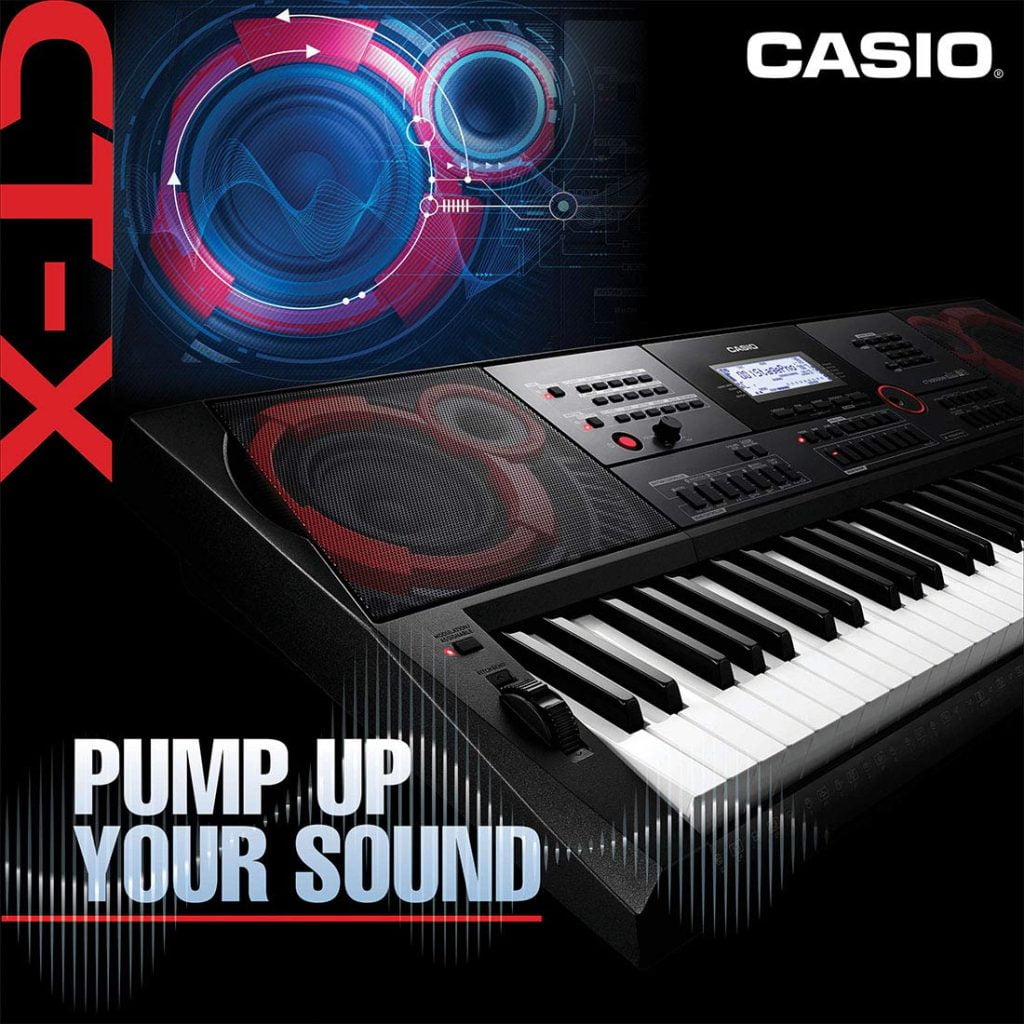 Extensive Sound Library:
The Casio CT-X9000IN keyboard boasts an expansive sound library that covers a wide range of musical genres and styles. With 800 built-in tones, including realistic acoustic instruments, vintage synth sounds, and modern electronic tones, this keyboard opens up a world of creative possibilities. Whether you're performing classical compositions, experimenting with electronic music, or exploring jazz improvisations, the casio CT-X9000IN keyboard has the perfect sound for every musical efforts.
AiX Sound Source:
Powered by Casio's AIX Sound Source, the casio CT-X9000IN delivers an unparalleled level of realism and detail in its sound reproduction. This advanced technology ensures that each note played is rich, dynamic, and expressive, mimicking the nuances of acoustic instruments with stunning accuracy. Experience the sensation of playing a grand piano, a vibrant brass section, or a soulful guitar right at your fingertips, thanks to the exceptional sound quality of the CT-X9000IN model.
Advanced Rhythm and Accompaniment Features:
Enhance your performances with the CT-X9000IN's extensive rhythm and accompaniment features. With 260 built-in accompaniment styles, including various genres and musical patterns, you'll have a full backing band accompanying you wherever you go. The keyboard intelligently follows your playing, providing seamless accompaniment that adapts to your style and tempo. Whether you're practicing, composing, or performing live, the CT-X9000IN's rhythm and accompaniment features add depth and excitement to your music.
Performance Features:
Take your musical expression to new heights with the CT-X9000IN's performance features. The keyboard includes a 17-track sequencer, allowing you to record and arrange your compositions effortlessly. With the built-in arpeggiator and phrase sequencer, you can add intricate melodies and rhythmic patterns to your performances with ease. The pitch bend wheel and modulation button provide additional control and expression, enabling you to infuse your music with your unique style.
Connectivity and Expandability:
The CT-X9000IN keyboard offers extensive connectivity options to integrate seamlessly with other devices and expand your musical possibilities. The USB MIDI port allows you to connect the keyboard to a computer or DAW (Digital Audio Workstation) for recording and music production. Additionally, the audio input and output ports enable you to connect external devices such as microphones, headphones, or speakers, enhancing your performance and practicing experience.
Final Take:
The Casio CT-X9000IN keyboard is a game-changing keyboard that combines innovation. Whether you're a professional performer, a passionate music enthusiast, or an aspiring musician, the CT-X9000IN is designed to inspire and amplify your musical potential. Its authentic tones, dynamic sound quality, and comprehensive set of features enable you to explore a wide range of musical genres and express your unique style with precision and flair.
Casio CT-X9000IN keyboard is crafted to provide an immersive and enjoyable playing experience. Whether you're composing, practicing, recording, or performing live.
Investing in the Casio CT-X9000IN keyboard means investing in a musical companion that will accompany you on your journey of artistic growth and self-expression. So, take the leap, embrace the possibilities, and let the CT-X9000IN be your gateway to creating unforgettable music and captivating performances.
Unleash your musical potential with the Casio CT-X9000IN keyboard and embark on a musical adventure like never before!
Invest in the Casio CT-X9000IN today and embark on a musical adventure that knows no bounds and not ending your passion! Doing practice with this definitely you will feel yourself amazed and will develop a good tunes and good music.